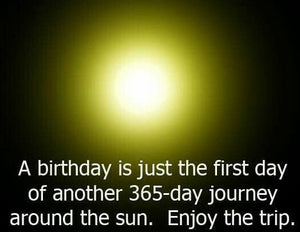 Your Solar Return "Birthday Report"- the upcoming yearly energetic trends - sent via e-mail
Regular price
$ 12.00
Sale price
$ 7.00
---
The Solar Return Report:  Your Birthday Report with the Upcoming Yearly Trends 

This report is my personal favorite!  I've used it for about 30 years, creating one for myself every year, on or near my birthday. I've also done thousands of these for  clients. I find it to be one of the most accurate reports about where the focus will be in an upcoming year. 


The report essentially is divided into two parts:
The first part analyzes the general external conditions of the year: opportunities and problems that could occur in different areas. 
The second part analyzes the specific area of your life that the various astral influences will be manifested, emphasizing your probable responses and inner changes.
The objective of this report is to offer you a practical guide that helps you to analyze this year's prospects and to learn from them, using your free will.
This analysis of the solar return chart is very thorough, analyzing both the solar return chart and its relationship to the natal chart, to determine energetic trends for the coming year. 
The report will show you the areas of your life where the energies, issues, situations, etc. will focus during your solar year.
When something repeats, it gains more weight as a 'hotspot.'
The Solar Return influences begin approximately on your birthday each year,  and last until the following birthday. The phrase "Solar Return" refers to the time when the sun returns to this exact place that it was in degrees and minutes, when you were born. This happens at a slightly different date and time each year: about one day before your birthday, on it, or one day after your birthday. 

No worries if you missed your birthday to order the report! It's still quite useful information, throughout the year!
Generally, this one is 10-12 pages.


***This is NOT a daily horoscope. We offer those as another product.

You must include the birth data indicated, in either the "notes" section at checkout, or e-mail it to us at sales@crystal-skull.com
(if using email, please 
REFERENCE YOUR ORDER NUMBER) We need this before we can process your order! 


Information needed for this report is:
Full Name
Date of Birth
Place of Birth
Time of Birth
(IF you do not know your time of birth, give me your closest guess, or I can use 12 noon.)
PLUS: To do the Solar Return report, I also need the city/location you spend your birthday, during the year that you want the report for.
In other words, where will you be or were you, on your birthday?


>>>>We need a GOOD EMAIL address for you (AND for your Recipient, if this is a gift.) That's how your reports will arrive so it must be an email that will accept attachments.

**If we don't get your information or hear from you within 48 hours, we reserve the right to refund your payment and cancel the order.
 NO SHIPPING CHARGES! 
This report will be sent to you via e-mail to the e-mail address you provide at checkout.