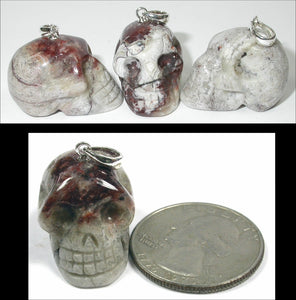 CRAZY LACE AGATE Crystal Skull Pendant / Pendulum - Sterling Silver Bale
Regular price
$ 35.00
Sale price
$ 28.00
---
This crystal has been charged with subtle energy from the Ancient Crystal Skull known as SYNERGY.
You are purchasing ONE

Crazy Lace Agate 

crystal skull pendant, selected at random by me (and I'm very picky!). The photo shows several to give you an idea of the overall quality of the material. The exact colors and patterns/inclusions visible vary from piece to piece. Many people have told me that they are using these small skulls as pendulums with fantastic results! I guarantee they are better than the photo! They are all just slightly different.
Each measures about 3/4" - 7/8" long (front to back). As they are unique and individually carved, all vary slightly.
Crazy Lace Agate is used to increase physical stamina and energy.  It's used to support one's ability to laugh at the games and manipulations of the world.
It brings laughter, and absorbs emotional pain, allowing one to regain their emotional balance. Crazy Lace Agate is used to help with decision making, as balance supports the clarity necessary to make good decisions.
It is generally a protective stone, but is particularly effective at deflecting emotional energies of a person who is directing anger and rage at the user. It has also been used to ward off the "evil eye."
It may also help one stay focused- in this way, specific stones can be excellent for purposes of divination.
In Crystal Healing, Crazy Lace Agate is used to increase stamina and energy, and is said to be good for skin disorders such as acne, eczema, etc. It's also thought to be beneficial for the endocrine system and the heart.
It is associated with the Heart and Third Eye Chakras.
Native legends speak of crystal skulls as an inheritance from ancient times.  Said to "talk and sing" they are believed to carry messages for all mankind, including what may be discovered when we overcome our fear of death. 

 The first layer you encounter when working with any skull, including Synergy, is "to remember."  This is the first layer - and this layer has many other layers within it.  What you are to called to remember is who you really are.  It's so easy to get caught up in the daily things and forget that each life is short and sweet, even with the difficulties.  The real you is a Being of Light. You are a Spiritual Being, inside of a physical body. "Remember."
Crystal skulls are tools of awareness and they can:
Focus Energy
Reflect Energy
Attune Energy
Transmit Energy
Transform Energy
Store Energy
Amplify Energy
  This item is being offered by Sherry Whitfield, the Guardian of 'Synergy' one of the world's most famous life-sized ancient crystal skulls.
Synergy and Sherry are written about in several books, including two standard references about crystal skulls, by Dr. Jaap van Etten, PhD, as well as other books and publications too numerous to mention.
Sherry has been interviewed for Sci Fi / History channel documentaries about crystal skulls ,including on the History channel, series "Ancient Aliens" and with George Noory on Coast to Coast AM. Synergy and Sherry are featured in the Avalon video production about Crystal Skulls, entitled "Echoes From the Ages: Talking Story with Crystal Skulls" and have been involved in the SciFi channel Ghosthunters TAPSCON paranormal convention in Florida, as well as having been featured at many, many Crystal Skull, Metaphysical, Spiritual and Native gatherings across the the world.

Sherry Whitfield is an internationally known facilitator of workshops on various spiritual, metaphysical and esoteric subjects. Sherry emphasizes simple, practical applications for spiritual, personal and professional development. Clairvoyant since early childhood, she is known for her down to earth and gently humorous approach to spiritual topics. She's been the guardian of Synergy since February, 2001.
People have asked me about how I clear my stones. You can read my BLOG entries on this site about working with crystals and skulls for details.  Every one of the skulls and stones that I list  has been with Synergy and is fully charged with the energy - after all - that's the whole point of me offering them to the public!
**********************
I am not an expert on everything I sell. I make every effort to describe items honestly, in detail and to the best of my knowledge. These descriptions are an "opinion" and my opinion may be different than yours. Each monitor shows colors slightly differently. So, keep all of this in mind and PLEASE view all pictures, read all information and e-mail us if you have any questions. My word is my bond and I hope yours is too. I will do everything possible to work with you, and to make sure that our experience with one another is a happy one. I normally ship items FAST!  I try very hard to get things out within one to two business days of receipt or clearing of your payment. I have no control over shipping time once it leaves my hands.